Sea'scape Oceanfront Cottages - Area Attractions - Birding, Beaches, Golf & History
Find your pace in our special place
Sea'scape Cottages is located in the Antigonish area of Nova Scotia, about midway between the the Capital city of Halifax and Cape Breton Island (Cabot Trail).
There is plenty to see and do in our area. Just a sampling of local activity includes swimming, hiking, canoeing, kayaking, fishing, golf, bird-watching (from our cottage decks! see more below) and boat tours. And don't forget to ask about our fresh lobster boils!
The best of Nova Scotia beaches!
Adjacent to the Sea'scape property, explore Pomquet Beach, Nova Scotia's best example of a prograding dune system. We will take you there... literally a 30 second boat trip. This 3 km (2 mi) supervised beach has the best example of dune succession in Nova Scotia. Boardwalks. Flush toilet, change house, interpretive display.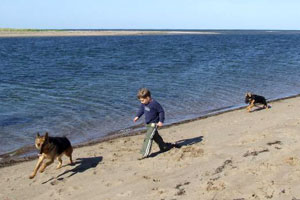 Also nearby is Bayfield Beach - A small popular beach. This pebble beach offers supervised swimming on weekends, change houses, vault toilets, picnic area and water outlets available
Want to be active?
Ask about our river-to-sea canoe or kayak mini-adventures. Fish trout in the early spring, mackeral, or striped bass in late August. Check out the birding from your cottage deck... guaranteed eagle sighting daily. Join a boat tour along the coast, exploring sea caves and Pomquet / Antigonish harbours, or visit Pomquet Island with it's thousands of sea birds.
Area Attractions
Fairmont Ridge Hiking Trail Six stacked loops, allowing hikers to choose a route anywhere between 3km and 12km, and to return by a different path. The longest route involves an ascent of 370m and takes you into backcountry.
Other local attractions include
Arisaig Provincial Park
(4 million year old fossils), Cape George Lighthouse Park and Trail System, A Tuna Fishing Interpretive Center, Fairmont Ridge Hiking Trails, Beaver Dam farm,
Town of Antigonish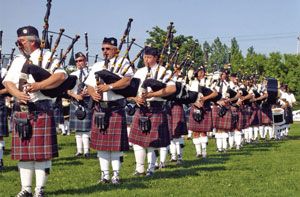 Antigonish Highland Games
(oldest continuous Highland Games in the world outside of Scotland), Festival Antigonish, Antigonish Heritage Museum, Theatre Antigonish.
Antigonish Golf & Country Club - A par 72 course measuring 6640 yards from the tips with a slope rating of 136.
Acadian History
Chez Deslauriers, a restored Acadian home overlooking beautiful Pomquet beach.
Historic Churches at Harve Boucher Nova Scotia Village of Harve Boucher
Originally a small group of original Acadian settlers from Arichat settled here and in the early 1800's some Irish families also settled in the region. Before 1785, John and Paul Bushee were living in the vicinity of the harbour in addition to the Decoast or DeCost family. In 1811 these individuals who previously lived in "Harbour au Bouchee" were given grants of land by the Crown - Philistine, John Baptist and James De Coast, Bernard Benwaugh (Benois) and Paul Bushee, Charles LeBlanc and John Baptist Melon and George Minette
So much to see and do! Swim in some of the warmest waters north of the Carolina's... there are three beautiful beaches to choose from!