Nova Scotia's Sea'scape Oceanfront Cottage Holidays
"Frank & Lelia; We are back in the swing of things here in England, milking cows etc and are constantly talking about our stay in Canada. We had a great time at your cottages. Tom and Maisie would have been happy if they could have spent the whole holiday on your beach! We wish we had had more time to explore. Thanks once again for making our holiday so special" - Richard, Rachael, Tom, Maisie & Mary K - Kent UK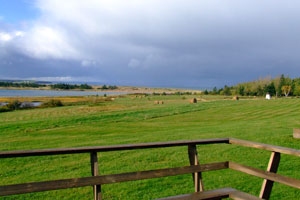 Sea'scape Oceanfront Holiday Cottages is located in Antigonish County midway between Halifax (Nova Scotia's Capital city) and the world-renowned Cabot Trail on Cape Breton Island. Given our central location, our guests are able to explore the area and much of the province in easy day trips. We would be happy to assist you in answering questions and offering ideas about how to enjoy your vacation time with us.
Long before Sea'scape evolved, the access to our facility was the Old Ferry Road, established in 1799 to allow passage to the beach, and onto western or eastern locations. Thomas Cutler was a local agent in 1799, appointed to be the ferry master as well as warden, keeping watch over White Pine stands for the British Admiralty.
Frank and Lelia began construction of the
oceanfront cottages
in 1989, to share this treasure with others. From the US, across Canada, the UK and Europe our guests have experienced the special warmth of our family run business. The property has brought much enjoyment to Lelia, Frank and their five children. The lobster is fresh right out of the boat and our local Scottish history, celebrated each year is compelling. Come see our skyscape of stars in the heavens on clear cool evenings. Provincially protected dunes, parks and beaches cradle sunsets that rival any view in the world.
Antigonish County is steeped in a unique heritage. Many resident's ancestors came from the highlands of Scotland, and their culture still resonates through every day life here. Acadian French had earlier also settled in the eastern part of the county upon returning to Nova Scotia after the Great Expulsion. Many of our current residents still celebrate their Acadian heritage. Later in county history, the Irish Loyalists and the Black Loyalists were granted parcels of land to begin new settlements. However, prior to the arrival of all these settlers, the Mi'kmaq occupied this territory and had been living in this area for many centuries. For more information on the history and genealogy of Antigonish County, please visit the "Local History Room" at the Pictou-Antigonish Regional Library site.
"La maison a les fantastic! Tres Bein" - Pascal, Patricia, Francoise, Causille & Thomas Jordanne - Halifax, Nova Scotia & Golmaisen, France